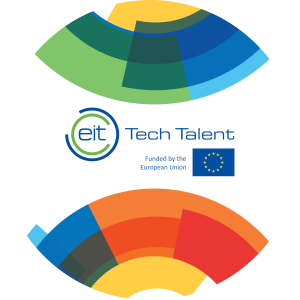 We are thrilled to announce that the Deep Tech Talent Initiative is gearing up for an exhilarating presence at the upcoming Web Summit in Lisbon 2023! This year marks an incredible opportunity for us to showcase our mission and engage with the deep tech community.
At our booth, we'll be actively discussing the Deep Tech Talent Initiative, an innovative programme aimed at closing the gap in deep tech expertise across Europe. We invite you to visit us to explore how we will skill one million people within deep tech fields over the next three years.
Moreover, we are excited to provide the space to meet and network with some of our current Pledgers at our booth. It's a great opportunity to hear how the initiative has helped their organisations and how they have positively contributed to the initiative.
As part of our commitment to fostering knowledge and growth, we will be hosting an exclusive masterclass. This session will offer a deep dive into the workings of the Deep Tech Talent Initiative. Open to both Pledgers and talents, this masterclass will provide insights into how we are reshaping the European deep tech landscape and creating opportunities for progress.
The Web Summit in Lisbon is an extraordinary gathering of tech enthusiasts, innovators and thought leaders. We can't wait to be a part of this vibrant community and contribute to the exciting conversations and initiatives driving the future of deep tech.
Join us at our booth to learn, connect and be a part of the transformative journey towards a more robust and innovative deep tech landscape in Europe.
Web Summit 13–16 November 2023
Booth: Pavillon 1, E114
Masterclass: Empowering Europe's talents in deep tech
The demand for skilled professionals in deep tech is extremely high. Join our exclusive masterclass on the EIT Deep Tech Talent Initiative with experts from business and education to discuss how we bridge this crucial gap and nurture talent across Europe.
Date: Thursday 16 November, 2023
Time: 14.00–14.45
Location: Room 2, Masterclass area 1
Speakers include:
Boris Kolev

Head of Digital Transformation, JA Europe

Boris is a serial tech founder and investor in multiple ventures in the sphere of digital innovation, healthcare, human capital development, ecology and social responsibility. Boris is a co-founder of the innovative eastern European talent acquisition platform nPloy, the genetic insights company NutriGen; the AI epigenetic data analytics startup Epix.AI and the nanofibre air filtering technology company Airate. Boris is also a managing partner of the micro-VC firm DigiMark Ventures, founded after the acquisition of his software company DigiMark in 2018.
Rasa Strumskyte

Co-Founder & VP Business Development at Talent Garden

Rasa is a co-founder and VP of Business Development at Talent Garden, Europe's leading digital skills academy and a founding partner of a global edtech group. She is also a board member at Hyper Island, a global learning provider that has been named the 'Digital Harvard' by CNN.
Gonçalo Duque

CEO at Junior Achievement Portugal

Gonçalo is dedicated to promoting entrepreneurial education and helping thousands of children and young people in Portugal to develop a more conscious, attentive and concerned mindset about their peers.
Ville Valtonen

Co-founder and CEO of MinnaLearn

Ville's mission at MinnaLearn is to ensure forward-looking teams learn the most relevant skills for thriving in the modern world by making learning fun, inclusive and scalable. Formerly, he served as the project lead for Elements of AI, a highly acclaimed course on AI literacy with an extensive global reach, boasting over a million students.
To book tickets to Empowering Europe's talents in deep tech, visit Masterclasses at Web Summit today!
Follow us on LinkedIn and Twitter for live updates from the Web Summit.
We look forward to seeing you there!
Partners